About
DR Maritime Assets is based in Kilkeel, the fishing capital of Northern Ireland.
As the operator of the largest independent fleet of specialist guard vessels in the UK, we are proud to provide some of the best vessels, people, tech and operating procedures to deliver offshore guard and support vessel contracts in Europe. A full-time guard vessel operator we develop our own cutting edge technology, innovative operating models and systems in order to deliver contracts seamlessly and efficiently.
DR | Dependable & Reliable
Vessels and engineering you can depend on. People and technology you can rely on.
To maintain our market-leading position we need to provide an outstanding service to our clients no matter what variables we have to contend with during our offshore work, such as adverse weather conditions, crew illnesses, mechanical faults, rogue vessels within our Guard Zones, project over-runs and so forth. By owning our own vessels, workshops, and technology, whilst maintaining a team of highly trained guard vessel specialists, we can deliver a first-class uninterrupted service to the standards that the energy giants, utility companies and key stakeholders demand of us. No matter what issues come our way.
With damage repairs to submarine cables potentially costing tens of millions and live offshore projects running at millions per day, we recognise the valuable role we need to play to ensure subsea assets are protected professionally and effectively. Our specialist vessels are adapted for purpose and part of a fleet with an emergency reserve. Our skippers and crew are dedicated full time to maritime asset protection work. Our tech that supports it all is bespoke and designed specifically for asset protection.
The DR history
In 1986 a 16 year old Russ Shepcar joined the Royal Navy and was trained as a Marine Engineer. Having left the Navy Russ spent 6 years as a Marine Engineer on various ships around the world. In 1997 his brother Danny invited him to join his company, which eventually evolved into a marine engineering business called DR Diesel servicing the Scottish maritime industry. Danny + Russ, D+R = DR… and so the 'DR' journey began. A large contract brought Russ to Northern Ireland in 1999 and in 2002 DR Diesel opened their first workshop in Kilkeel and Russ settled here. Danny stayed in Scotland whilst Russ started fresh with DR Diesel on the Island of Ireland. Russ acquired fishing boats and eventually moved into Guard Work in 2009.
DR Maritime Assets as part of The DR Group
DR Maritime Assets was officially launched in 2018 when the previous companies DR Diesel (established in 1999 as an engineering business for the fishing industry) and DR Boats (established in 2010 to provide boats for Guard & Utility contracts) were evolved into a new DR Group structure comprising of DR Maritime Assets (specialist Guard vessels, crew and tech) and DR Marine (specialist marine engineering to service the DR Group fleet).
DR Marine still has its workshop and facilities in Kilkeel. Russ Shepcar has an active role in DR Marine as Chief Engineer, ensuring the delivery of a first class fleet of Guard vessels.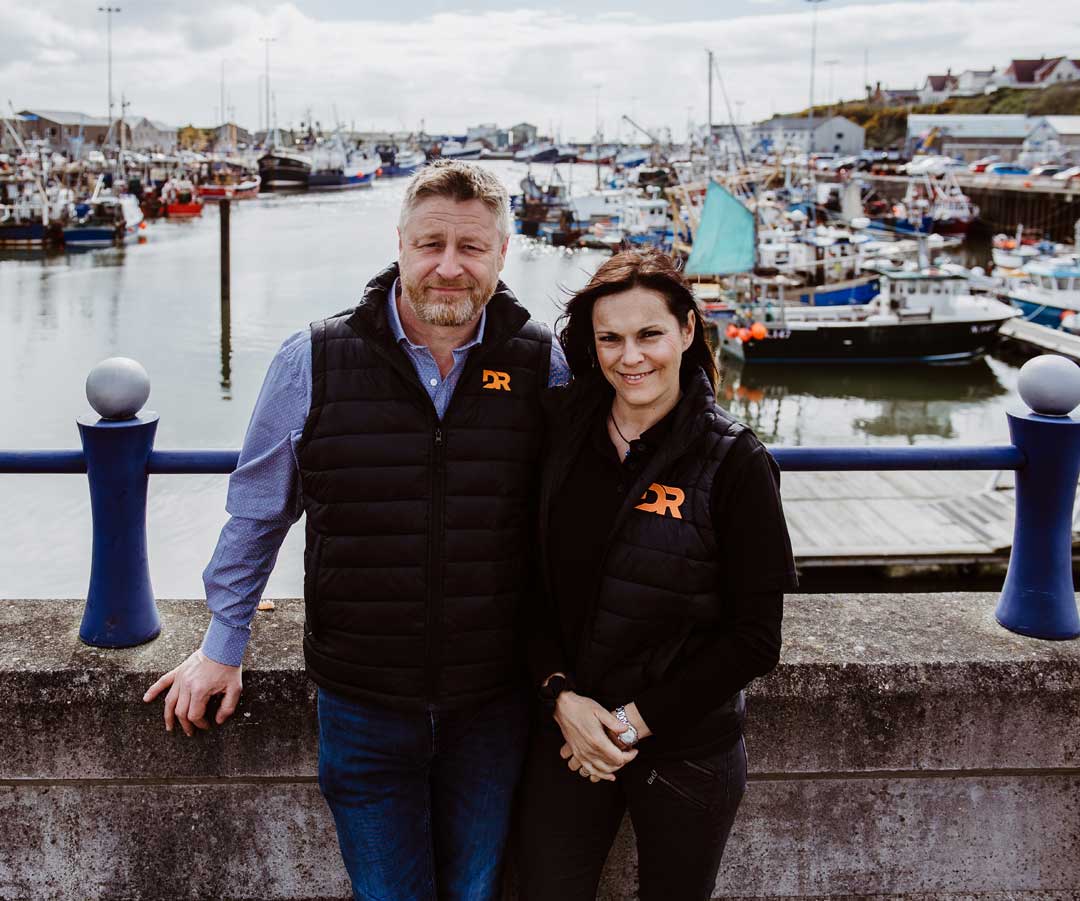 "The DR Dazzle"
In 2018/19 to mark the centenary of the 1918/19 roll out across the British Royal navy of the most iconic maritime design in history, Norman Wilkinson's camouflage 'dazzle', we incorporated dazzle into our brand. On the water it makes our vessels highly visible. As a brand statement it stands us out as a market leader in the guard and utility vessel space, prepared to push the boundaries of guard work innovation and delivery.
UK'S LARGEST OWNER-OPERATOR OF GUARD VESSELS